Welcome to the Red River Valley Catfish League. 2018 is going to be even better than 2017. In 2017 we averaged 22 boats each week with 32 entering our "everyone welcome" night the end of July. If you were not part of the league you are missing out and we would love to have you.

The schedule for 2018 has been set and we are adding two more optional contests. We are adding a weekly big fish contest that will be an optional $5 per week. Biggest fish wins the pot each day. We are also going to have a bracket contest. Details below on the contest section.

We are also going to add a weekly sponsor who will provide extra prizes that will be drawn for at awards.

The club is planning a kids fishing night during the season. We will be asking members to sign up to help out and provide boats to take these kids and parents fishing for a couple hours. The goal is to introduce more people to the Red River and the catfish that call it home. Date TBA

Lastly, Scheels is sponsoring the heaviest slot fish contest again. This slot fish will count towards your two fish limit for the night. CHOOSE WISELY.

League will begin Wednesday May 9th, 2018.

2018 Red River Valley Catfish League Schedule-
May 9- North Landing
May 16- LaFave Park
May 23- North Landing
May 30- LaFave Park
June 6- North Landing
June 13- LaFave Park
June 20-
OFF
(Scheels Boundary Battle Week)- For more information or to enter
www.boundarybattle.com
June 27- North Landing
July 4- OFF
July 11- LaFave Park
July 18- North Landing
July 25- LaFave Park
(Need not be a club member night.)
August 1- OFF
August 8- North Landing
(Registration begins at 5pm and fishing begins at 6pm each night)
August 11th- Year End Tournament $100 Entry Fee (Need not be a member)
2018 Red River Valley Catfish League Contests

Membership- $20 per person
Regular League Night- $10/team/week
Anglers of the Year- We will have a points race for anglers of the year (2 people) Everyone is in this contest. (You must weigh in to receive points)

Optional Contests-
Weekly Big Fish- $5 per boat per week, big fish wins all.
Stray Cat- (Biggest combined weight for the season)(Top 7 totals) $40/person/season
Fat Cat- (Biggest Cat of the Season) $30/person/season
Mystery Partner- (Top 7 Totals) $30/person/season
Bracket- In 2018 we are going to run a head to head bracket. $20 per boat. We will draw for the bracket at week 1 or week 2. The next week match play will begin with the winning team winning the pot. (In case of tie we will flip a coin for who moves on.)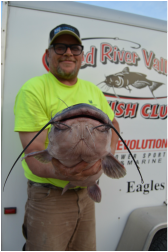 For More Information Contact Rob Raymond 218-791-3762

---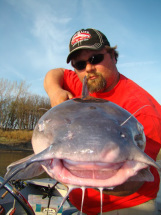 For More Information Contact Brad Durick 701-739-5808

---